She then worked in the fashion industry as a designer of Ladies' and Children's wear for well-known high street stores.
A career break to have a family enabled Caren to rediscover her love of art and she began to experiment with different forms of Textile Art.
Today Caren's uses wool & silk fibres in a 'painterly' way in order to create textural moody felt pieces that depict, landscapes, seascapes & floral designs. As well as felt, Caren works in other textile media including: Batiks, Silk Paintings, Hand Made Silk Paper pieces & Devore.
In addition to creating & selling her own work, Caren teaches adult classes & workshops for, Adult Education Services as well as privately. She also teaches Art in primary schools throughout Cumbria and Lancashire.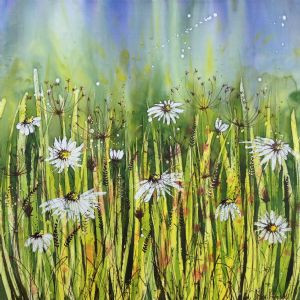 Silk Batik

Magenta field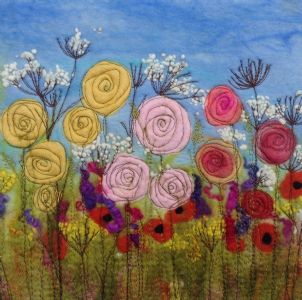 Summer Garden